Sharing Learning Content
Creating learning materials is a large investment in time and funds. In LON-CAPA, learning materials are not created within the framework of just one course, but managed as learning object, which can be used and re-used at different granularity levels across courses, disciplines, and even institutions - built-in digital rights management ensures that this happens within the usage rights set forth by the authors.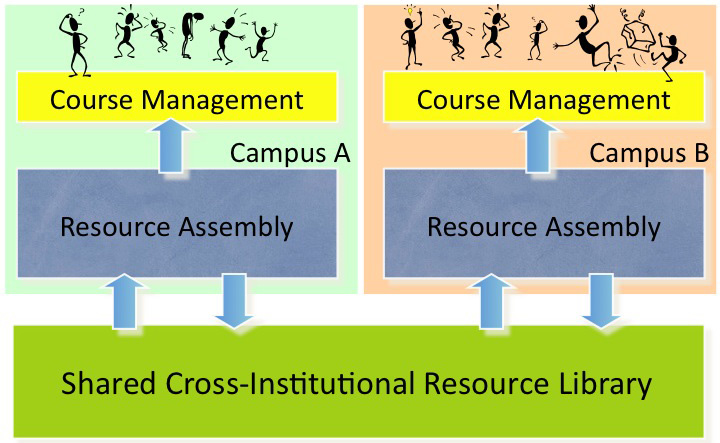 To this end, logically, LON-CAPA is architectured to have a shared resource pool spanning across multiple institutions at the lowest level. Faculty can assemble resource from this pool at different levels (e.g., modules, chapters, lessons, etc.), and use this assemblies in their courses, and also store them back into the resource pool for re-usage. At the highest level, LON-CAPA includes a complete course management system to efficiently deploy these resources in courses.
This re-usage is illustrated in the figure below: modules on individual physics topics are written at two different institutions, assembled at a third, and re-used at a forth institution, making up the "network" in LearningOnline Network.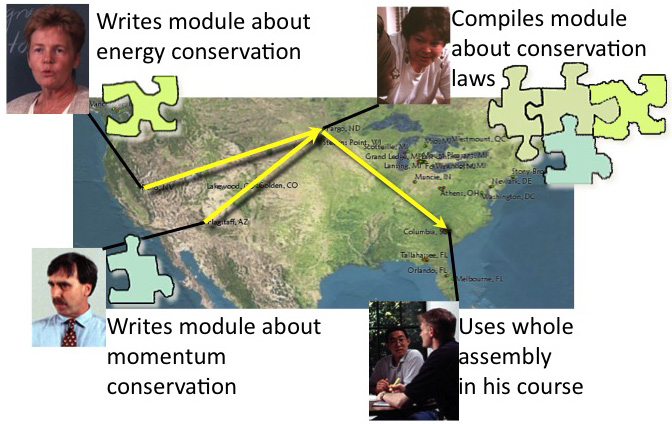 Contact Us: lon-capa@lon-capa.org
Site maintained by Gerd Kortemeyer.
Supported by the National Science Foundation under NSF-ITR 0085921, NSF-CCLI-ASA 0243126, and NSF-CCLI 0717790. Any opinions, findings, and conclusions or recommendations expressed in this publication are those of the author(s) and do not necessarily reflect the views of the National Science Foundation. Initial funding for CAPA has been provided by the Alfred. P. Sloan Foundation and the Andrew W. Mellon Foundation.