Course Management System
LON-CAPA is a full-featured course management system, including
Gradebook
Ability to post presentations and documents
Collect assignments
Email the class
Discussion and chat functionality
Collaborative portfolio space
Group and section management
...
The screen below is the instructor dashboard, which demonstrates several of these features. It shows items that there are some essays awaiting handgrading, that new discussion posts have been made regarding certain problems and pages, alerts the instructor that some problems appear to be really hard for the learners, shows new messages in the internal messaging system, and shows learning content which changed within the last week (part of content management and versioning). Also on this screen, the instructor would be alerted regarding changes in enrollment and course staff.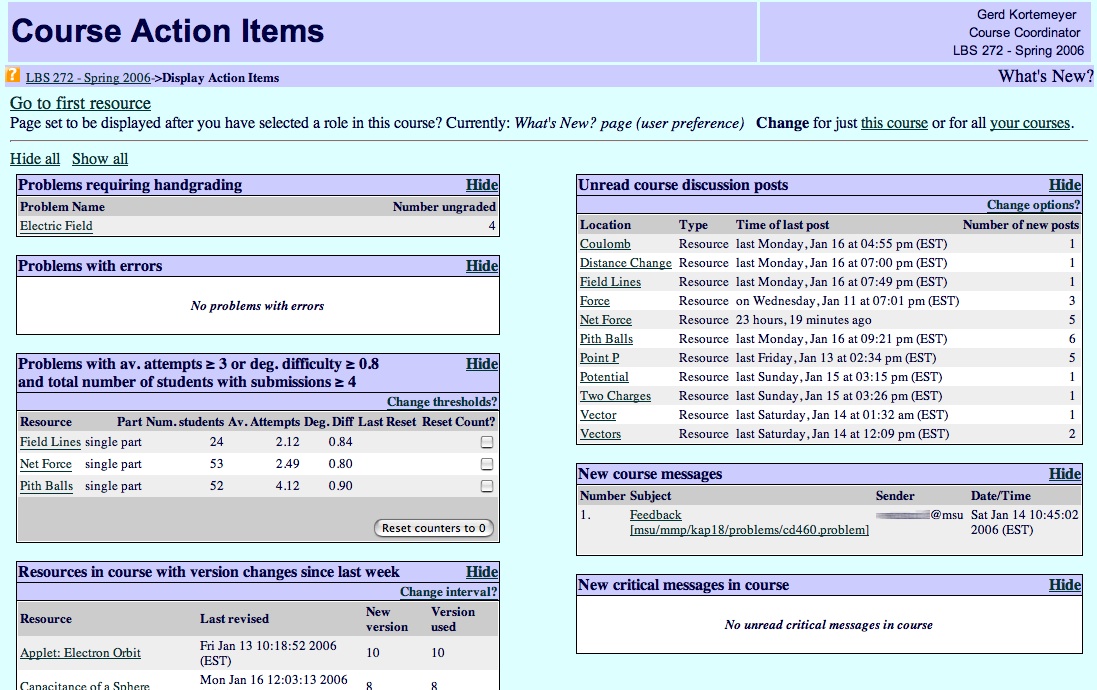 LON-CAPA comes with a proven most effective and powerful system for readily creating, delivering and grading automated, individualized, interactive, homework and learning resources of many types via the internet. With LON-CAPA, in a couple of hours, I can assemble all the homework resources for an entire course, ready for immediate student use. This includes: appropriately enrolling all students and instructors, assigning the dates and times at which resources are available and homework due, and invoking the necessary marking/grading schemes, as well as many other optionally adjustable parameters.
- Ray Batchelor, Senior Lecturer of Chemistry, Simon Fraser University, Canada.
Contact Us: lon-capa@lon-capa.org
Site maintained by Gerd Kortemeyer.
Supported by the National Science Foundation under NSF-ITR 0085921, NSF-CCLI-ASA 0243126, and NSF-CCLI 0717790. Any opinions, findings, and conclusions or recommendations expressed in this publication are those of the author(s) and do not necessarily reflect the views of the National Science Foundation. Initial funding for CAPA has been provided by the Alfred. P. Sloan Foundation and the Andrew W. Mellon Foundation.